22.02.2014 [18:55], pacer, Pohlavní nemoci, komentováno 12546×, zobrazeno 291261×
Pavel Čermák
Podle údajů Státního zdravotního ústavu byl v roce 2013 nově zjištěn virus lidské imunitní nedostatečnosti (HIV) u 235 lidí. Oproti roku 2012, kdy byl virus diagnostikován u 212 lidí, tak došlo k nárůstu o 11 %. Pokud jde o způsob přenosu, tak s přehledem vedli gayové, kterých se v roce 2013 nakazilo 180. V následujícím grafu vidíme, počínaje rokem 2007, doslova raketový nástup této nepočetné menšiny, která suverénně trumfla celou heterosexuální populaci, jak mužskou, tak ženskou dohromady. Pod černou křivkou symbolizující spojení GAY - SMRT si musíme představit homo/bi muže, kteří se postarali o tento čtyřnásobný náskok. Lesby se na tomto způsobu přenosu prakticky nepodílí.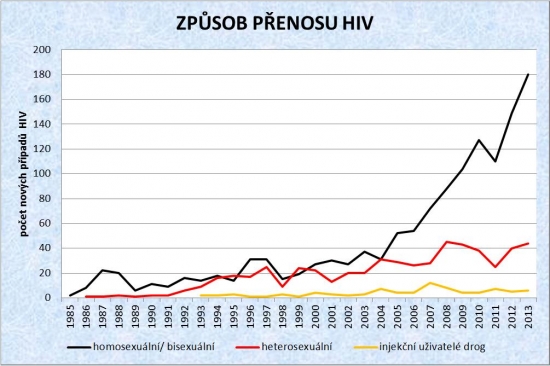 Počet nových případů nákazy virem nemoci AIDS v ČR. Černá barva je symbolická pro morbidní realitu gay subkultury a zdůrazňuje spojení GAY – SMRT. Duhové barvy použité například na vlajce LGBT hnutí jsou jen součástí teatrálního make-upu, který má zamaskovat vyhřezlé, zmutované pudy poškozených jedinců. Graf byl sestaven podle zdrojů Státního zdravotního ústavu.
Přes obrovský náskok gayů bych chtěl upozornit ještě na další "zásluhy" gayů, resp. bisexuálů. (Kolik gayů však nikdy nemělo sex s ženou?) Podle informací v americkém tisku jsou tři ze čtyř newyorských žen, které se nově nakazily HIV, ženy s bisexuálními partnery. Tyto ženy se sice nakazily při heterosexuálním styku, ale původcem jsou opět homo/bi muži.
Co přispívá k drtivému vedení gayů v této morbidní soutěži
Gayům již před několika lety otrnulo. Když byla uvedena do praxe antiretrovirová léčba, přeřadili opět na vyšší rychlost, pokud jde o počty sexuálních partnerů, a zaujali ležérnější přístup k užívání kondomů.
LUI v článku "Praha - hlavní město gay porna, které ovšem točí heterosexuálové" také podává vysvětlení:
Od nynějška už je méně zajímavé natáčet v Budapešti. Porno studia tak udělala to, co by udělal jakýkoli jiný velký podnik: přesídlila. A proto se právě Česká republika stala jednou z nových lokalit, kde se daří tomuto žánru. Dnes je Praha podobná tomu, co byla Budapešť před 10lety:"Země zaslíbená gay pornu", tzv."Bangkok Evropy." Všechna studia zabývající se gay pornem zde umístila své kanceláře: BelAmi, Eurocreme, Badpuppy…
Tisková zpráva Národní referenční laboratoře pro HIV/AIDS za rok 2013 poukazuje na to, že gayové HIV dále šíří, bez ohledu na to, že pozitivní výsledek v HIV testech je jim dobře znám:
V roce 2012 bylo u HIV pozitivních osob nově diagnostikováno 66 nových případů syfilis... Z těchto 66 případů bylo 20 zjištěno souběžně s diagnózou HIV v roce 2012, u 3 byla časná syfilis zjištěna v období několika měsíců po diagnóze HIV v roce 2012 a zbývající se týkaly pacientů, kteří byli diagnostikováni jako HIV pozitivní před rokem 2012. Je zřejmé, že mnozí pacienti se infikovali syfilis v době, kdy znali svůj pozitivní HIV status, což znamená, že HIV dále šíří.
Kdo bude platit léčbu a kolik to stojí?
Proč by to gayové nedělali, když mají plnou podporu českého státu. Stát vše zaplatí, nebo spíše zdravotní pojišťovny, na jejichž bedra stát tyto náklady přehodil, jak se píše ve zprávě Centra epidemiologie a mikrobiologie Státního zdravotního ústavu s názvem "Trendy vývoje a výskyt HIV/AIDS v roce 2012":
Výrazný dlouhodobý nárůst HIV pozitivních osob a nemocných AIDS vyžadující nákladnou léčbu antiretrovirotiky vedl ze strany Ministerstva zdravotnictví ČR ke změně koncepce financování problematiky HIV/AIDS, kdy od roku 2008 léčbu nemocných a laboratorní diagnostiku HIV/AIDS začaly hradit zdravotní pojišťovny. Roční náklady na základní trojkombinační antiretrovirovou léčbu jedné HIV pozitivní osoby činí 300–400 tisíc Kč. Náklady na léčbu, laboratorní diagnostiku a péči o nemocné HIV/AIDS v současné době činí přibližně 350 milionů Kč ročně a vzhledem k nárůstu počtu osob žijících s HIV/AIDS každým rokem narůstají.
Co na to říká Tomio Okamura
V článku "Růžová" turistika by se v Česku mohla stát podnikatelským zlatým dolem se píše:
Z hlediska cestovního ruchu je Prague Pride přínosem. Jsme v situaci, že bojujeme o každého turistu, a tato akce zajistí pro svoji cílovou skupinu propagaci Prahy jako destinace. Je zajímavá i z hlediska útrat, jelikož homosexuální turisté utrácí ve světě v průměru více než ostatní, protože nemají výdaje spojené s dětmi, doplnil Tomio Okamura, viceprezident Asociace českých cestovních kanceláří a agentur.
A dále na otázku, zda je na propagaci gay turismu je příliš brzo, Okamura odpovídá:
To ne, to říkám v kontextu těch drahých spotů. Existuje spousta daleko levnějších způsobů, jak můžeme Prahu propagovat jako gay-friendly destinaci. Já jsem v tomto směru už před několika lety určitý návrh koncepce sestavoval, jak však asi tušíte, nikdo ze státních orgánů odpovídajících za cestovní ruch to však nevzal za své.
Co obnáší gay turistika?
Stačí nahlédnout do průvodce pro gaye a hned získáme barvitý obrázek.  Za povšimnutí stojí zmínka o tom, že je nespravedlivé, že S/M klubů pro gaye je dost, zato pro hetery vůbec NIC! To není náhoda, zákon nabídky a poptávky funguje v sexbyznysu stejně jako kdekoli jinde. Kdepak, gayové vůbec nemají sklony k násilí, jsou přece úplně stejní jako hetery….
ALCATRAZ
lokace: Bořivojova 58,Praha 3-Žižkov, tramvaj 5,9,26 do stanice LIPANSKÁ
Je to nejdrsnější SadoMaso klub v Praze pro gaye (což je nespravedlivé, neboť S/M klubů pro gaye je dost, zato pro hetery vůbec NIC!)Jak už to bývá, je ženám nepřístupný:-((.Nicméně vevnitř to vypadá tak, že je tam hlavní místnost s barem určená pro veřejné akce, setkání, tématické akce (leder, fetish, do naha, veřejné exekuce, výprasky, live show....) ,cela předběžného zadržení, též určená pro veřejné pranýřování odsouzených vězňů, dále 2 darkroomy, zařízené ve stylu středověké mučírny, budou postupně vybavovány pomůckami a nástroji vztahujícími se jednoznačně k převýchově a trestání (kříž, kláda, kladka, lavice, pranýř...). Sociální zařízení včetně sprchy, kterou lze dokoupit zvlášť, dále je možno zapůjčit některé nástroje (oproti záloze). Prostory jsou vytápěny topením v podlaze, takže je možno chodit bos, všechny 3 místnosti jsou opatřeny odtokovými kanálky, takže nejsou zakázány ani praktiky jako jsou piss a pod. Ve vstupní chodbě je k dispozici informační tabule, která bude průběžně aktualizována a nechybí zde ani soukromá inzerce. Prostory je možno pronajmout i mimo otevírací dobu pro soukromé party i dvojice (pán a otrok), natáčení filmů s SM tématikou. http://faghag.wz.cz/pruvodce.htm
Možná, že by Okamura uspěl se žádostí o evropské dotace na dovybavení českých S/M gay klubů odtokovými kanálky s automatickým dezinfekčním systémem. To by byla pecka pro milovníky pissingu a koprofily či skatofily z celého světa. Skvěle by se to vyjímalo v katalozích cestovních kanceláří a mohlo by to přitáhnout ještě více gayů na úkor Bangkoku, jenž není hygienou zrovna vyhlášen a třeba i výše zmíněné Budapešti.
Co radí žákům a studentům ministerstvo školství
V publikaci vydané VÚP ve spolupráci s ministerstvem školství pod názvem Problematika dětské pornografie a její prevence na škole uvádí autoři kapitoly Pedagog a homosexualita Petr Kaňka a Andrea Scheansová:
Ačkoli přesná příčina není stále zcela jasná, o neléčitelnosti této odchylky již není pochyb. Argumenty vrozenosti versus vlivu prostředí byly vždy zneužívány oponenty pro práva gayů, kteří hovořívají o volbě životního stylu homosexuality, čímž znehodnocují požadavky pro občanská práva. Celá diskuse o příčinách homosexuality však není příliš důležitá.
Zásadní je, že se jedná o lidská práva; vzhledem k faktu, že homosexualita nikoho ničím neohrožuje, biologická či nebiologická podstata homosexuality je irelevantní. Příznačně k tomu poznamenal S. LeVay v roce 1993 v interview pro Advocate: "Nemyslím si, že by práva gayů měla záviset na důkazu, že si sami nemůžeme pomoci proti tomu, jací jsme. Měli bychom mít stejná práva i v případě, že se jedná o naprosto svévolnou perverzitu."
Ministerstvo školství je progresivní a má pro žáky, studenty a gaye pádný vzkaz:
Život máte jen jeden a tak rychle ochutnávejte všechna jablka ze stromu rozkoší. Směle posunujte hranice lidského poznání a rozšiřujte prostor pro individuální seberealizaci. Nebojte se proto sebesvévolnějších perverzit, ať už je to barebacking, bug-chasing, fisting, pissing, scat, BDSM,  pony play, chem piss, nebo CBT. Kreativně posouvejte limity jako při sadomasochistických orgiích. Nepřátel se nelekejte. Stát již donutí zdravotní pojišťovny, aby platily i nejmodernější a nejnákladnější léčení. A školy všem vtlučou do hlavy, že homosexualita nikoho a ničím neohrožuje.
Přidat komentář
Komentáře